AutoSock are the 'original & best'. There are many cheap fakes on the market that haven't been safety tested like AutoSock and do not perform to the same high standards as the genuine article.
From its beginning, the AutoSock product has been developed in close collaboration with car manufacturers and the german TÜV Süd. Since 2001, AutoSock has been certified by TÜV Süd as a "winter emergency driving aid".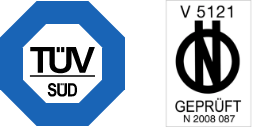 In 2008, AutoSock passed the requirements of the new ÖNorm V5121 and are approved as a snow chain equivalent. During the same year, the AutoSock for Truck product range gained approval as a traction device by the CDOT (Colorado Department of Transportation) / USA.
As well as the car manufacturer endorsements, AutoSock meets the requirements of the European snow chain standard EN16662-1:2020, and may be used on vehicles up to 3.5 tonnes GVW in the EU (except Austria), and in Switzerland, where there is a requirement for snow chains to be carried.
Austria told the market in June 2022 that it does not accept the new standard EN16662-1:2020, in place from 1st December 2020, so AutoSock are not approved in Austria where it is mandatory to carry snow chains, and to use them if the conditions require it. We hope that this anomaly will be resolved soon.